The answer is simple: Hike!
I am a surfer. Let's make it clear! When free, I always end up where the waves are. However, the Atlantic Ocean isn't always pumping generous lines of swell. My adventurous spirit had to find something more, but not anything…. Then, I met my boyfriend and with him came a new passion: Hiking! I quickly got hooked and passionate about exploring the hills behind Taghazout, and here is why:
1. It doesn't require anything but your body
Unlike other outdoor sports that necessitate lessons and expensive gear like surfing or rock climbing, you only need proper shoes and a backpack to walk in nature, and even these ones are only necessary for extended treks. I only bought my serious boots after a year of hiking.
2. It strengthens the body
And my legs have never looked better. Had you asked me to wear leggings few years ago, I would have laughed in your face. There are hikes in my area that involve climbing up then coming back down, which is great to test my balance and work my muscles in a varied way. It is a great workout for my legs, but not only that, it strengthens glutes, quads, hamstrings, and calves.
In general, a one-hour hike can burn around 400 calories, all while sculpting your body (depending in part on your body weight).
Hiking doesn't only affect your shape. Many studies have also shown that it can lower your risk of heart disease, improve your blood pressure and blood sugar levels, boost bone density in a pretty short time!
This outdoor activity also has a protective effect on the eyes as it may reduce the risk of developing nearsightedness (myopia).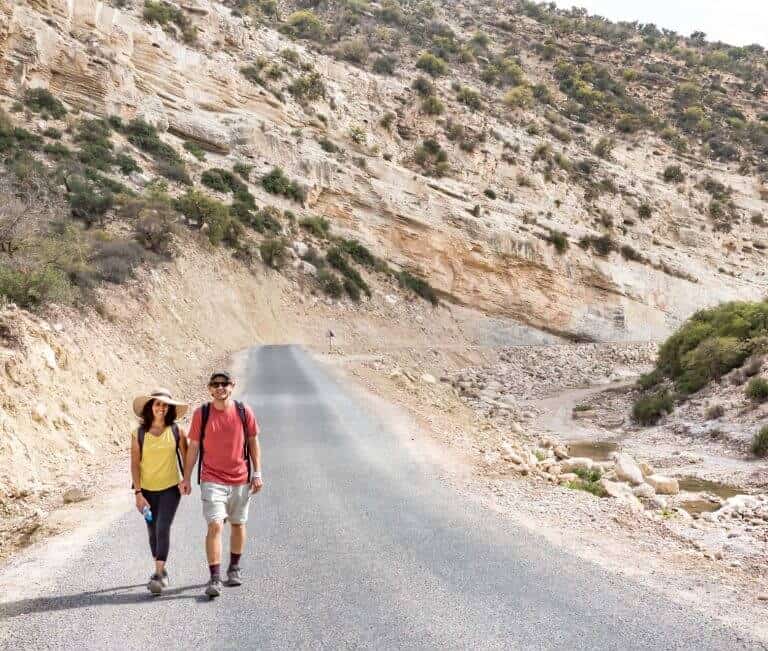 3. It reduces mental fatigue and makes you happier
It is not only about my legs, and I am not some sportaholic girl or something because the benefits of hiking go far beyond just the physical shape. Hiking appeases the mind and restores mental energy, and no one needs scientific studies to understand that exposure to natural environment makes us feel happier.
After a few hours at the office, I always find myself struggling to focus. Hiking around Agadir on my off days happens to be the perfect way to achieve a good work-life balance. It is a meditative activity that connects me with nature and makes me completely disconnect from work. 
When I reach the top of Taghazout hills and gaze out into the ocean, I feel calmness, peace and serenity. My anxiety and stress go away. Researches from all over the world prove that spending time outside in nature releases endorphins, the happiness hormone. It simply changes your brain for the better.
The Answer is Simple: Hiking Morocco!
In Agadir, the best season to get going lasts approximately from early October to late April: Blue skies, sunny days, and plenty of daylight to spend on the trail!
From surfing to hiking, Taghazout region is the perfect holiday for an outdoor enthusiast. Hiking trails and routes are not what we lack in the area.
So, are you tensed and stressed?
The answer is simple: HIKE!