Edit July 2023: New Airport Shuttles to the City Finally!
We've been waiting for this for a long time (and wondering why it didn't exist), and here they come: The Airport-City Center Shuttles! Agadir's bus company, Alsa, has just launched a shuttle service from the airport to the Vallée des Oiseaux stop in the city center. The shuttles start running at 4 a.m. and operate until 1 a.m., with a frequency of one per hour. The ticket costs 50dh (approximately 5€) per transfer. You can find more information on the Alsa website.
Need a way to get from Agadir Airport to Taghazout?
Travellers have limited options to get from the airport of Agadir to Taghazout (& Tamraght). Besides, the information found online is not necessarily accurate … even on the Airport page itself. Hence, an update might be helpful.
Agadir-Al Massira Airport
Agadir – Al Massira
Airport
is around 25 kilometers far from the city. After landing, travelers should expect minimum 30 minutes before they can finally make it outside.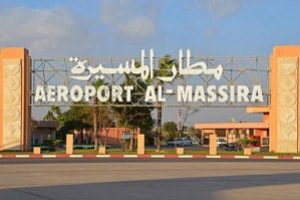 Do not forget to fill out an arrival card before getting through the customs. Moroccan Dirhams can be purchased at one of the exchange offices or the ATMs inside the Airport. Changing cash at Airports is expensive. Be smart about it and only exchange a small amount of money. You can do that later either in Agadir, Tamraght or Aourir.
How to get from Agadir Airport to Taghazout?
You have four options:  Either you can rent a car right at the airport with multiple car rental options online and at the agencies inside the Airport itself, book an Airport transfer, take a Grand Taxi , or simply use public buses. Here, I am going to focus on the last three options:
1. Airport Transfer to Taghazout
An airport transfer service can be booked at less than 500,00 dhs (Less than 100,00 dhs to Agadir).
This option is expensive if you are one person but affordable when you are three.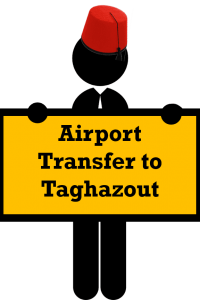 The best option for late night flights, and also the fastest way. Grand Taxis are on call in front of the airport, and they are supposed to cost you 300dh. They are either, old Mercedes or new Dacia, and they carry up to 7 passengers at a time. Prices are per ride, not per person. 
To save money and reduce costs, it might be practical to chat to other travellers and share one Grand Taxi. Those carrying a surfboard are definitely heading to the Taghazout… and maybe those wearing shorts as well.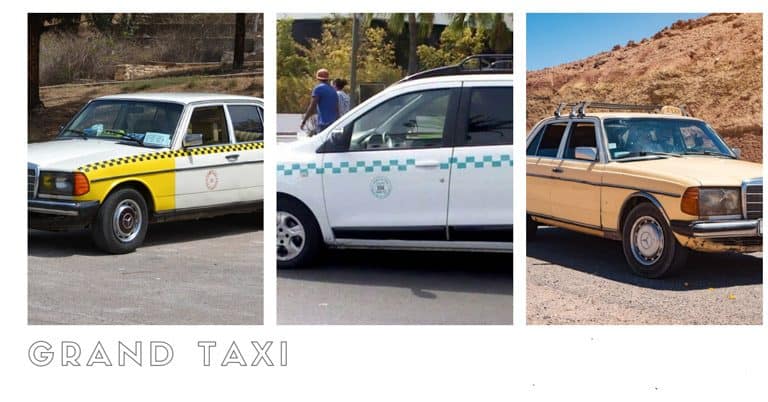 There should be some Taxi sharing applications which provide this service, but I couldn't find any around Agadir. Heetch is a Taxi app operating only in Casablanca so far, but who knows… maybe soon in Agadir .Please, leave a comment below if you are aware of any. 
Sharing a Grand Taxi to Agadir is also fine. Ask the driver to drop you at Place Salam inside the Abattoir district. From there, take the city bus (More explanation about buses below).
This option is not for you if you are in a hurry, but a good choice if travelling on a budget. Sometimes waiting for the bus takes forever. To avoid frustration, experience some standing meditation while waiting. 😉
There are no direct buses from Al Massira-Airport, neither to Agadir nor to Taghazout. You need to go to Inezgane city first.
The bus stop is outside the Airport on the other side of the road. There is no sign,  but people stand near the roundabout. Take the bus N°37 running the Airport-Inezgane line from 6:30am to 8:30pm (less than 10,00 dhs). It should take less than 20mns.
From Inezgane to Agadir, either take a Grand Taxi (10,00 dhs) or the city bus N°6, N°11 or N°96 to Place Salam inside the Abattoir district, the City Terminal for taxis and buses of Agadir. It should take less than 30 mns.
At Place Salam, two options are available: Grand Taxis (10,00 dhs) or the city bus N°32 running the Agadir-Taghazout line from 6:30am to 8:30pm for less than 10 dhs.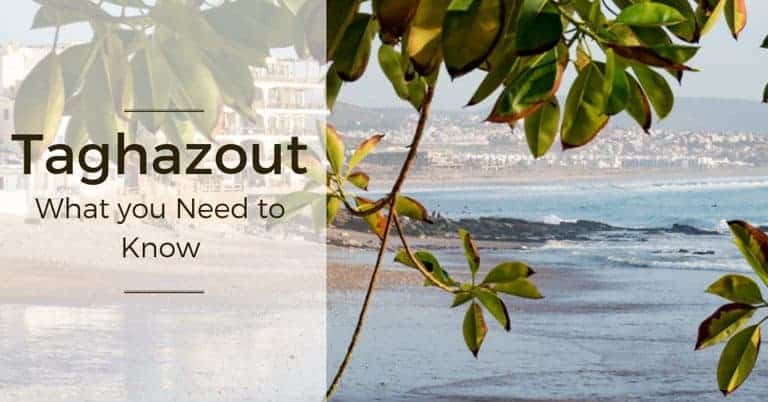 Airlines flying to Agadir:
Norwegian Air Shuttle (Copenhaguen, Stockholm, Oslo) – Air Arabia (Dublin, Manchester, Toulouse, Cologne, Munich, Stockholm, Copenhague) – ASL Airlines (Dublin) – Binter Canarias (Las Palmas) – Condor (Germany) – EasyJet (Gatwick) – Enter Air (Varsovie) – Eurowings
Germania (Zurich) – Jetairfly (Brussels)