Not only is Paradise Valley surfers' escape when the swell in not pumping in Taghazout, but also a very popular hike among locals. Located in the highlands of Agadir, this oasis can be reached within an hour's drive from Taghazout and Agadir.
The whole trip is easily accessible to anyone. You can either rent a car, join a guided hike, use public transport, or even walk…
Walk??!!!!!
Yes, I said walk!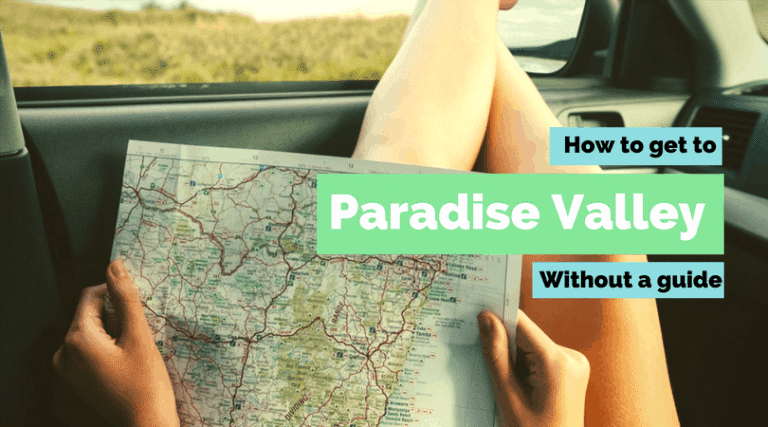 Multiple car rental services can be found online. Prices start from 250 dhs/day and can be reduced to 200 dhs if you plan on keeping the vehicle for longer. Expect decent small cars for this price.
1. From Taghazout to Paradise Valley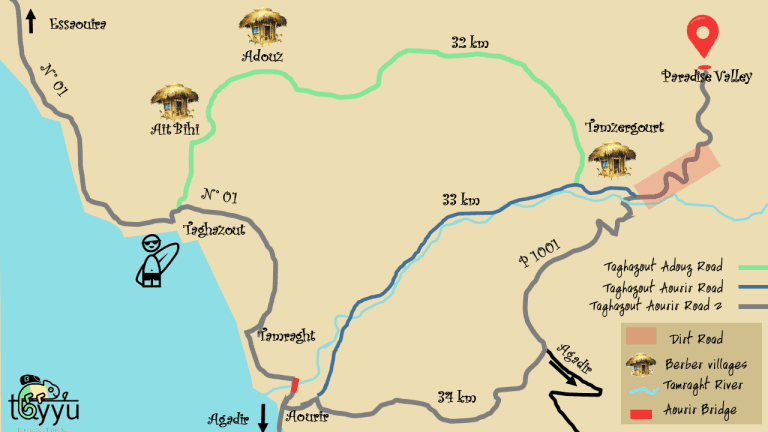 a. Taghazout - Aourir - Paradise Valley
We start with the easiest and most known road. It crosses Aourir (Banana village), and takes around 55 minutes by car. Driving is amusingly chaotic in this town. So, drive slowly once there.
From Taghazout, take the road N1 to Aourir. Once there, turn left with the roundabout and continue inside the village until your path splits in two directions (You will see on your right, the sign "La route d'Alma-Vallée du Paradis). Here, you have two options:
Either,
You can take the right path (P 1001) and continue on a winding road for about 16 kms through the mountains. After a while, you will see "Paradise Valley" sign with the palm groves of Tamzargout village behind.This means you are on the right path! The road continues along the riverbed for about 7 kms before it reaches Paradise Valley parking lot.
Or,
You can go straight and drive along Tamraght River. The two paths meet at Tamzargout. This road is relatively new, a little bit narrow, less frequented but also worth it. It is up to you to choose, but the distance is almost the same.
b. Taghazout - Adouz - Paradise Valley
This road is new and rarely taken. You may need a GPS, or a mobile connected to internet to follow this paved path, but you can easily do fine without. Some of us need their devices to feel reassured. This road is about 15 minutes longer than the classic one, but it is definitely worth it especially by Spring time.
Starting from Taghazout, the road ascends few kilometres to Ait Bihi, the village on the top of the hill, then Ait Ahmed further up. After, it descends slowly to cross Adouz village, and continues winding until Tamzargourt.
At Tamzagrout, drive left through the canyons for about 7 kms until Paradise Valley parking lot.
2. From Agadir to Paradise Valley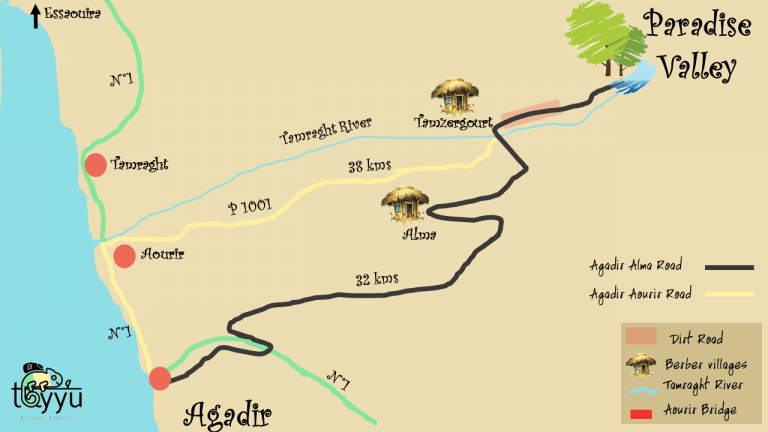 a. Agadir - Aourir - Paradise Valley
Again, we start with the most known road, which crosses Aourir (Banana village and takes about one hour drive.
From Agadir, take the road N1 to Aourir for about 18 minutes. Once there, turn right with the roundabout and continue inside the village until your path splits in two directions (You will see on your right, the sign "La route d'Alma-Vallée du Paradis). Here, you have the two options already explained above. Either you go straight or turn right. Both ways take you to Tamzargout and then Paradise Valley parking lot.
b. Agadir - Alma - Paradise Valley
This road is less travelled, narrow, and a little bit damaged at the beginning, but going this way still takes 5 minutes less.
This road starts behind Cité Illigh, situated in the North East of Agadir. To get there, find Jardin Olhao in the center, and take the "Forces Armées Royales" Avenue, which goes alongside the garden up to reach the road N1. Turn left at the roundabout, and continue on the road N1. Take the first turn on your right and continue straight until the city is left behind. After about one Kilometer, the road splits into two directions; stay on the right main road until the village of Alma (The other road leads to a hot spring called "The Hot Spring"). at Alma, take the right path and continue for a while. You will eventually see "Paradise Valley" sign with the palm groves of Tamzargout village behind. the path will lead you to Paradise Valley parking lot after about 7 kilometers.
Scooters are available for rent in Taghazout, and can be found for less than 150 dhs. But, check your scooter first. Some of them might not be suitable for the mountains and the dirt road.
In Agadir there are multiple choices to rent a motorbike. If you are looking for something cheaper, check the ones usually parked near Club Med.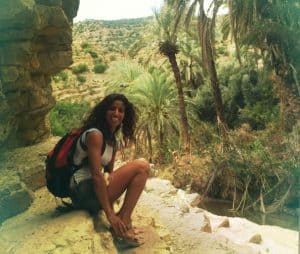 a. Taghazout - Paradise Valley
From Taghazout to Aourir, either take the City bus N° 32, shared taxis or the unregistered taxis (An illegal way to solve the lack of public transport in the villages around). They should cost about 5 dhs.
At Aourir, take another shared taxi or the blue/green mini buses for about 25 dhs, and ask them to drop you at Paradise Valley.
b. Agadir- Paradise Valley
Straight from Agadir
You can take a shared taxi at the Abattoir district, Agadir's Terminal for taxis and buses. It should cost about 50 dhs, but taxis take some time to fill up when it comes to remote places.
Through Aourir (Cheaper and most common)
To get to Aourir, two options are available: Grand Taxis (7 dhs), or the city buses N°31, 32, 33 (5 dhs) running the Agadir-Taghazout line from 6:30am to 8:30pm.
From Aourir to the valley, shared taxis and the blue/green mini buses are available for about 25 dhs. Ask them to drop you at Paradise valley.
Walk back to the parking lot and wait on the side of the road for taxis, mini buses, or simply hitch-hike if you are an adventurous traveller. It may take some time, but if you are back on the road by 4 pm, then it should be easy to find a taxi.
It was not a joke! you can actually hike all the way up to Paradise Valley. Whether you are in Taghazout or Agadir, follow the cars' road To Aourir. It should take about two hours from Taghazout and three from Agadir, but it is better to catch public transport to Aourir and start hiking. The landscape gets better from there.
In Aourir, follow Tamraght River until Paradise Valley. The walk should take around 5 hours. It is possible to camp overnight at Paradise Valley.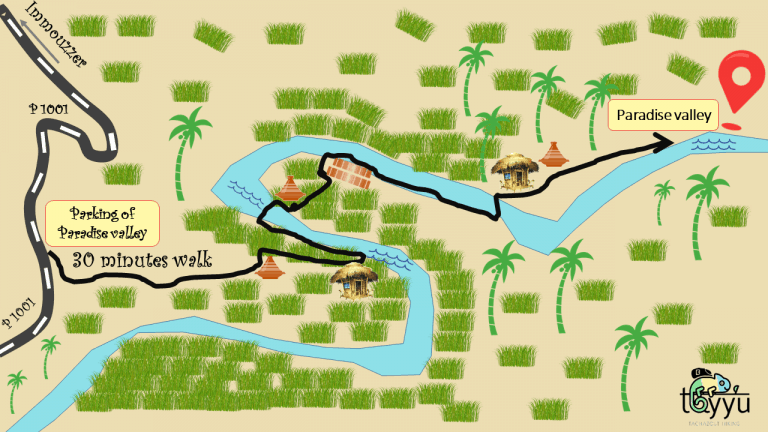 Paradise Valley is a simple 30 minute hike. From the parking lot, walk along the hill until you see a restaurant on your right. Then, follow the road down to find small fields. Slightly, walk left until you reach the river. Follow the left bank of the river, and walk until you see small restaurants (shacks) on the other side. Cross the river towards them and continue straight through small fields until you see a stone wall. Walk left and continue along the wall, leaving the river on your left until more restaurants can be seen on the other side of the river. Cross the river towards these shacks. Leave them on your left and continue towards the water pools.
You have just made it. Enjoy!
If you rent a car, this hike can be a half day activity. To escape the crowd, avoid weekends. The valley gets busy over the weekend, and crazy busy in summer.
Due to the rain and flood, the road is sometimes not accessible for few days (Usually between January and February). Check out the weather before you hike Paradise Valley.
Once you get past Tamzargout, you will be driving on a dirt road for few kilometers through trucks and dust. The road is constantly under maintenance due to the flood. This part is a little bit rough, so drive slowly.
Parking your car will cost you 10dhs.
If you got sensitive feet, make sure to wear suitable hiking shoes. The trail is rocky, steep, slippery at some places, and you will be crossing Tamraght river few times.
Take your swimwear and a towel. To carry your things, use a small backpack for a good balanced walk. More detailed information about what to bring can be found here.
Pack light, you don't need that much. You can buy water and food around. The site is not pricey.
Ask for your Tagine on the way to the pools, it will be ready on your way back!
Be an Environment conscious hiker:
Unfortunately, some hikers leave their
trash
behind. You are very likely to come across some on your way. You might not be the one who left trash behind, but bringing a bag to pick up the trash while hiking is the right gesture to help preserve the environment. So, instead of complaining about the actions of others, collect some garbage and participate at cleaning the place. Set the example. Others will follow.
Looking for less crowded hikes?
Paradise Valley is no longer the hidden oasis we used to know. In Tayyu Hiking, we tend to avoid very popular hikes. That is why, we have designed a new trail beyond the familiar Paradise Valley, a hike where the scenery is beautiful and tranquil, and which we named Paradise Valley II.
But, we don't limit our hikes to Paradise Valley area. The mountains around Taghazout and Agadir offer more trails to explore the Berber culture and nature. Our hikes are safe, easy, delightful, and they cross many traditional villages.